Astro Boy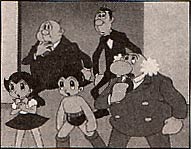 Osamu Tezuka's most famous work, Astro Boy (Tetsuwan Atom) ran in the manga magazine Shonen from 1951-2. The anime debuted in weekly 30-minute segments from 1963, to great public and critical acclaim.
Astroboy is a robot boy - very strong, and can fly using rocket propulsion. Under the guidance of Dr. Ochanomizu, his mentor, and head of the science ministry, and along with his sister Astrogirl whom Dr Ochanomizu has created, Astroboy embarks on adventures, and fights threats to mankind.
Presumably to coincide with Astro Boy's birthday, who was born on April 7, 2003, all-new episodes of the series have been created and debuted, and will soon be shown here.
When Madman Entertainment started releasing Astro Boy on video in Australia this was their promo flyer.

Links of interest

  Astroboy theme -au file (573K)